Veterans create over 100 matchstick poppies to mark Remembrance Day.
9 Nov 2021
A group of veterans have come together to create over 100 poppies made from matchsticks, which will be laid at the gravestones of war heroes as a way of paying their respects to the fallen.
The veterans are all based at HMP Holme House which operates a Veterans Activity Hub, run by justice services provider Ingeus in partnership with
Project Nova
(a unique programme led by RFEA – The Forces Employment Charity and Walking With The Wounded), where ex-military prisoners undertake innovative activities to build inclusion and aid their rehabilitation.
The CFO Activity Hubs
provide a safe space for offenders to receive support for re-integration into society and to develop a wealth of professional skills that will help them secure on-going employment.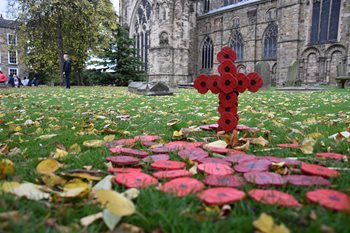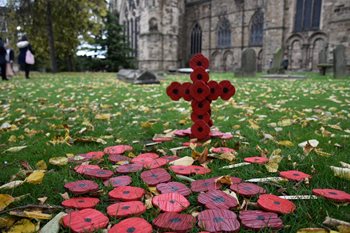 The matchstick poppies will be passed to members of community-based CFO Activity Hubs and will be laid, largely by veterans, on Commonwealth War Graves across Durham, Darlington and Middlesbrough on Thursday 11 November.
The CFO Activity Hubs are funded via the HM Prison & Probation Service Co-Financing Organisation (HMPPS CFO) and European Social Fund. As well as the CFO Veterans Hub based at HMP Holme House, Ingeus also delivers three community-based CFO Activity Hubs for ex-offenders across the North East.
Chris O'Connor, Head of Delivery at Ingeus's Justice division, said: "The CFO Veterans Hub is a community within a community at HMP Holme House. We're committed to supporting the veterans, and participants on probation working with our Community CFO Activity Hubs, to strengthen the positive steps being taken towards their rehabilitation."
"Remembrance continues to unite people of all backgrounds and generations, coming together to commemorate the service and sacrifice of the Armed Forces community," adds Colin Back, Project Nova's National Manager.
"For most veterans, the transition to civilian life is usually successful. Sadly, for some, the transition can be less smooth and can lead some veterans into offending. Project Nova co-ordinators really understand the experiences of ex-servicemen and women both during and after their military careers. It is this empathy which gives veterans the strength they need to make changes to their lives and access support through health and specialist services. The activity the veterans have undertaken to pay their respects in a meaningful way is a great example of this. We are delighted that through the poppy making in Holme House and the researching and visiting war graves by those using our Community CFO Activity Hubs, that people are able to feel connected with the fallen. It also offers the opportunity to give something back in a practical way, to ensure the memory of these veterans will never be forgotten."
As well as creating the matchstick poppies, the ex-Servicemen have also worked together to transform an area of a lawn at Holme House to create a remembrance area consisting of a poppy made of red gravel, plus a vegetable garden which will be used to supply local foodbanks.